Welcome to the new Allied Health Professionals Educator Career Framework, commissioned by Health Education England, now NHS England. Designed for all AHPs at all career stages, this framework aims to support a sustainable and high-quality educator workforce both in practice and in academic settings. 
Professor Alison Chambers, author of the AHP Educator Career Framework, introduces this valuable work.
The outcome-based framework describes the knowledge, skills and behaviours required to be an effective teacher, learning facilitator and role model in AHP education across all career stages and should be seen as an important first step in establishing a national standard for the AHP education workforce.
It looks at a range of AHP educator roles with their associated capabilities and proposed education, training, and academic standards through six domains. These domains consist of the capabilities and competencies required for advancing educator careers for every AHP at every career stage.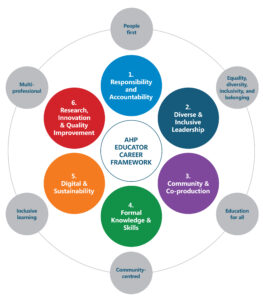 The full report contains a review of the existing career and education frameworks for all Allied Health Professions and a targeted literature review of key publications.