The Council of Deans of Health represents the UK's university faculties engaged in education and research for nurses, midwives and allied health professionals. At any one time our members will be educating around 100,000 future and registered health professionals.
Operating as a multi-professional organisation at the heart of policy and political debate, we aim to lead policy at national and UK level, promoting the essential contribution of our members to health and social care.
We are committed to working in partnership, strengthening membership engagement and intelligence gathering to influence policy UK-wide for high quality education and research.
Our strategic priorities
Influence policy UK-wide
In the next three years, we will continue to influence government agendas across the UK for all the professions we educate. Using our membership intelligence effectively we will be working in partnership with others seeking positive impact across our professions as we will engage in high level policy agendas UK-wide.
Secure sustainable funding for our disciplines
Recognising the diversity in the funding and commissioning of higher education and research across the UK, in the next three years we will focus our energy on advocating for sustainability of funding for higher education and increased focus in research funding for our disciplines
Foster leadership and innovation
As healthcare higher education leaders navigate the complexity of our political and economic landscape, it is now more crucial than ever to recognise that strong leadership of our professions will lead to better outcomes for education and research in our sector. Recognising that our research community needs strengthening, we are committed to enhancing research capacity, building our academy and making the case for stronger government focus and public understanding on the contribution research and innovation make to the economy and society.
For more information, read our strategic plan for 2018-2021, Securing a Sustainable Future.
---
Annual Report 2019/20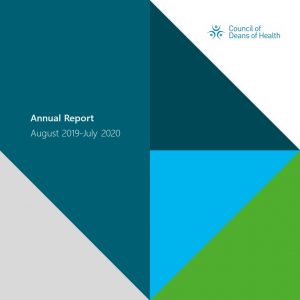 Our Annual Report provides a comprehensive look at our achievements in 2019/20 and our plans for the coming year.
The last year is one that has seen significant challenges, but also notable achievements. The Council continues to organise its policy work around the five portfolios of workforce,
research, regulation, global and education impact. It is also involved in work across the UK relating to course funding and student support. Our members play an important role in informing the Council's work and never more so than in the last year with our work around workforce growth, funding and the response to the Covid-19 pandemic.
In the coming year we will continue to influence policy agendas across the UK to ensure the sustainability of our professions and strategically position the higher education sector at the heart of UK healthcare policy. Whilst there will still be significant work around the Covid-19 pandemic and the implications of the emergency arrangements for education provision and recruitment, we will also be focusing on discussions with policy makers across the UK on workforce growth, continuing to promote our courses, research and protecting vulnerable professions.