Guest blog by Debbie Wilson, Physiotherapist and Clinical Education Improvement Fellow with Health Education England and Canterbury Christ Church University.
To start with I would like to ask you some questions – (and for this we are not talking titles here, instead we are talking about behaviours)
When did you first feel like a leader?
Feel invested in as a leader?
When did you feel you had a valuable voice?
Understood your personal values and impact as a health professional?
When did you start leading?
For many registered health professionals the answer is often "quite late" and that they relied on 'natural traits' 'luck' and 'self-driven determination' to make impact, discover themselves, and craft their skill.
So what would I discover if I explored pre registrant leadership development in practice based environments?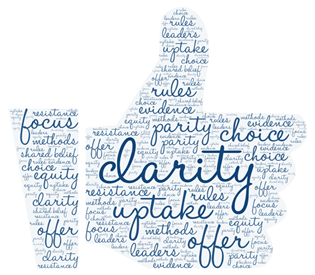 'Leadership' to some seems to be an unspoken and mistrusted word- so what are we assuming it means? And what message are we giving to our pre registrants about their role as a leader and ability to develop it throughout their career?
What happens when we focus placement experience on leadership? Are all students ready? Interested?  Invested? And supported to explore and craft it?
How do we differentiate the learning experience for our students? How can we make leadership accessible to all? What theory has been taught, understood and does this translate to practice?
What lessons have we learnt by growing our workforce in ways that break tradition, remove barriers to learning environments previously only encountered years after registration when the role and title allowed?
The questions are many, and the answers are both quite fascinating and also somewhat alarming. As we continue in this pandemic, I never stop being surprised by the incredible innovation, resilience and determination from practice educators, practice leads and practice facilitators to create and enhance placement capacity for our pre registrants. I am also proud to see so many students taking up diverse, creative, emergent placement experiences and being curious to growing their competencies in new ways –  ways that should be normalised and embedded into every learning environment and not seen as diverse just contemporary.
It's not all plain sailing, and the important aspect of quality in placement provision remains critical- especially if we are to model good leadership! The pandemic has truly shone a light on the existing challenges we had, and perhaps exposed others. These include addressing cultural barriers and the professional duty to continuously strive in developing a workforce truly fit for modern practice challenges with the transferrable and translatable leadership skills all health care professionals need to navigate today and to grow and thrive in the future.
As I draw conclusions from thematic analysis, and come towards the point where my fellowship project reaches its crescendo, I hope to bring insight, discourse, some simple rules, and an underpinning to an area of practice not previously embedded into pre registrant AHP practice learning before- with a desire to ensure the quality of the offer is fit for purpose and embedded into the curricula.
After all – leadership is for life, not just for Covid.