A guest blog by Professor Bridie Kent, Director of The University of Plymouth Centre for Innovations in Health and Social Care: A JBI Centre of Excellence, and Professor Ruth Endacott, Director of the Royal Devon and Exeter Hospital/ University of Plymouth Clinical School.
In 2013, my colleague, Professor Ruth Endacott, and myself began a voyage of discovery, in terms of engagement, to establish a new and novel initiative in the South West of England to enhance research in response, in part, to an editorial by Jeremy Grimshaw in which he stated:
'One of the most consistent findings from clinical and health services research is the failure to translate research into practice and policy. As a result of these evidence-practice and policy gaps, patients fail to benefit optimally from advances in healthcare and are exposed to unnecessary risks of iatrogenic harms, and healthcare systems are exposed to unnecessary expenditure resulting in significant opportunity costs.' 
We engaged with four local NHS Trusts initially to establish what we now call the South West Clinical Schools network. Our work with healthcare providers indicated the urgent need to boost research capacity, and increase the amount of nursing and midwifery led research, which, at the time, was much lower than that occurring in the other health professions.
Accordingly, in 2014, the University of Plymouth, in partnership with local NHS providers, created clinical schools, which are centres, or hubs, in which professors, who are clinical credible academic role models, mainly from the School of Nursing and Midwifery, work to bring the University into the very heart of the research culture and academic careers of nurses, midwives and allied health professionals. Today, there are five such centres, located in Truro, Plymouth, Exeter, Taunton and Torbay. Each of the Clinical Schools hosts a range of opportunities to engage the workforce in exploring and adopting evidence-based activities in practice, and is actively involved with the JBI Collaborating Centre of Excellence (JBC) located at the University of Plymouth.
The main area of focus is to encourage nurses, midwives and health professionals (NMAHP) to look at their practice, challenge current thinking, try out new ideas and work out ways to measure the changes they are implementing. We use an implementation science approach to underpin clinical school work and development, adopting the Knowledge to Action Framework initially and latterly embraced the JBI Model of Evidence-Based Healthcare.
Each of the five clinical schools operates slightly differently, to reflect local need and strategy, with variation in goals.  By working closely with Chief Nurses in the host Trusts, the Clinical Schools support the strategic plans. One Clinical School set out seven strategic ambitions that capture its' activity: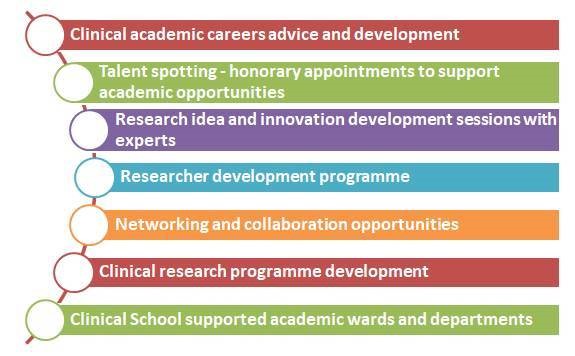 Similar approaches have been adopted in the other four Clinical Schools, although the ways of working and structures do differ.
Outcomes/Achievements
Modest financial investment has reaped massive rewards in terms of NMAHP research achievements, awareness and engagement. Desired outcomes include successes across the HEE/NIHR ICA pathway, research grants, regional, national and international conference presentations and publications in peer reviewed journals.
We have seen growth in PhD awards and enrolments, from a zero base. Clinicians have been supported to submit, and seen success with studentships at doctoral level within the HEE/NIHR ICA framework; four have completed their doctoral programme in this last 12 months, and three are due to complete in 2021. The MClinRes programme funding, awarded to the University of Plymouth by the NIHR, opened up opportunities for at least 30 clinicians to gain skills in clinical research methods; of these several have gone on to enrol in doctoral programmes. Publications of research findings have increased too; in one NHS Trust alone, 16 nurses have achieved first time publication through clinical school mentorship.  Furthermore, one of the clinical schools has been awarded a JBI Clinical Partnership with JBI in Adelaide and the University of Plymouth JBC, to help develop of its first Clinical Academic Research Facility across Integrated Services for Older People (Emergency Department team, acute admissions facility, acute stroke unit, five acute care base wards specialising in older peoples care, and a discharge facility).
Ultimately, each of the Clinical Schools' activities facilitates wider organisational engagement to progress individual clinical academic developments and opportunities, developing capacity and capability for clinical research, evidence-based practice and quality improvement activity. This supports the successful transition from undergraduate student through newly registered health professional to research leadership roles located within clinical settings.
Lessons from the last six years
The key principles of successful Trust-University partnership through the clinical school model are:
Visible support at executive level in both organisations
Clinically credible professors as clinical school directors
Tenacity and willingness to learn from both parties
Greatest success has been realised when 'in-kind' support has been provided in the form of time allocated to clinical school activity from both organisations. A notional one or two days each week of time by a senior nurse or AHP to match the contributions of professorial time from the University partner firmly embeds the partnership model of working in everyday practice; a win-win for all.