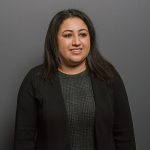 The Council is running a series of CoDHcasts on the theme of anti-racism in academia and health. The series involves speaking to academics and researchers from our membership, as well as interviewing some of the #150Leaders from the Student Leadership Programme.
In this CoDHcast, we speak to Ifrah Salih, a Senior Lecturer in the Department of Nursing and Midwifery at Sheffield Hallam University who has recently accepted a role within the Academic Development & Diversity team. Ifrah has been running a support programme for students and staff from BAME backgrounds across nursing and midwifery since 2018. The Nursing and Midwifery Minoritised group has since collaborated with a number of other organisations and been replicated into other departments. We speak to Ifrah about how she set up the programme, what some of the challenges have been and the benefit it has had to students.
Listen to the CoDHcast
To find out more about Minoritised, you can contact Ifrah Salih by email. Follow Ifrah on Twitter @IfrahSalih and @Minoritised.