Part two by Beryl Mansel, founder of Swansea's Student Leadership Academy
---
I had a vision, a picture of what the Student Leadership Academy (SLA) could be and should be. A BIG idea! However, how do I turn this vision into a reality?
One small step at a time.
My initial step was to effectively communicate my vision with others. This was key along with identifying and enlisting others with a shared passion in effective leadership. I shared the idea with Kateria Kolyva, Executive Director of the CoDH thus gaining permission to pilot a model of the Student Leadership Programme (SLP) at a local level. Step two was to sell the vision to key influencers at Swansea University, with support from mentors,
Professor Judy McKimm and Professor Sharon Williams. I framed my vision as working alongside Swansea University's Leadership Academy. In May 2018 a concept paper for a Student Leadership Academy was born, and I am eternally grateful to Professor Ceri Phillips for his enthusiasm and support of the SLA.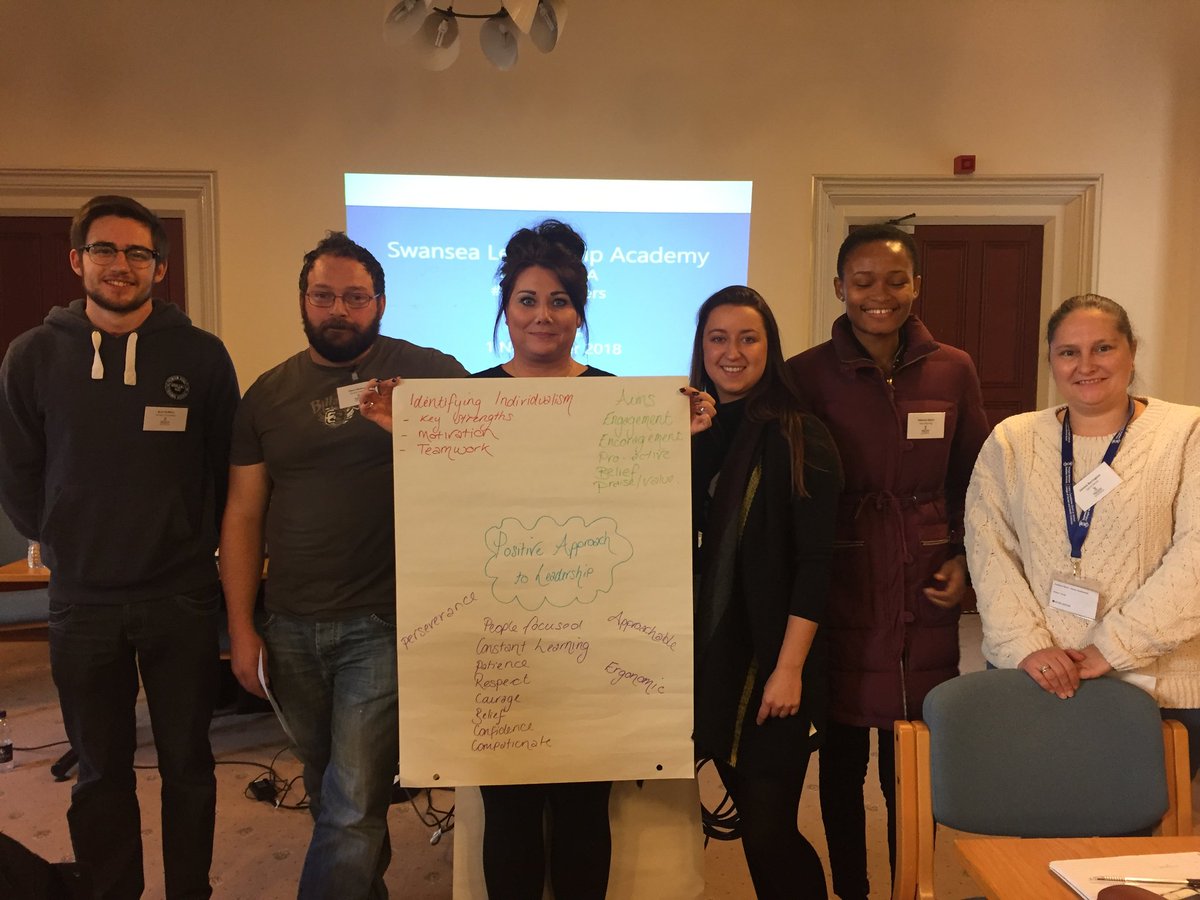 To communicate my SLA vision, I organised a 'Leadership Taster Session' in November 2018. This was a 3 hour session for students who expressed an interest in learning about leadership and was also an opportunity to showcase what could be achieved by developing student leadership. Feedback from the students described the taster as; 'inspiring', 'enthused' and 'empowered'. What I observed was the same energy, excitement and enthusiasm, from both students and the observers, that was discernible within the national programme. For me this was a validation to move forward with confidence that this leadership programme could be successful in a local context.
I did not have a perfectly formed vision, collaboration was essential for the direction and design of the programme, thus an advisory panel was established.
The panel includes members across health and social care, academics and clinicians, including members from Welsh Government, Welsh Ambulance Service NHS Trust (WAST) and a Service User with a background in leading within education. Embracing the CoDH ethos of students as co-creators of the SLP, we invited 3 student representatives who were selected for the National Student Leadership Programme in 2018/19.
Samuel Richards, Mental Health Nursing
Angharad Colinese, Midwifery
Joshua Maney, Allied Health Professional – Osteopathy
Their support and advice have been instrumental in shaping the SLA. Here, Sam talks about the SLP and SLA .
Sam and Angharad co-created a leadership journal for our first cohort. The mnemonic HEARTS represents: Honesty; Emotional Intelligence; Authentic; Resilience; True connections and Self-awareness this complimented my observations of what was important to the students from cohort 2 of the SLP.
LEADING FROM OUR HEARTS
The development of a 'Terms of Reference' document for the Advisory Panel outlined the scope of the role of the members.  Specifically, their role was to bring different perspectives and work collaboratively to provide advice, expertise, experience and knowledge, and to shape the development and implementation of the SLA and influence stakeholders to achieve the objectives of the SLA. The stakeholders were drawn across health and social care to include Head of Nursing, Nursing Officers, members from the Royal College of Nursing, Royal College of Midwives, Social Services, Clinical Leads, WAST with invitations to Coach the first cohort planned for March 2019.
In January 2019, I promoted the SLA to first year health and social care students in lectures and invited them to apply for a place on the programme. Applications were slow to come in at first, therefore I enlisted Sam, Angharad and Joshua to promote SLA and the opportunity to apply for the programme.
Reflecting back, the challenges along the way were minor issues attributed to my lack of knowledge in ordering and purchasing goods and finding the right learning environment. I wanted to move the students away from their usual lecture rooms and provide a different learning space that facilitated group work and innovative thinking.
On March 25th  and 26th, 2019 we held our first two days of the SLA, which featured an Emotional Intelligence workshop, student presentations; discussing authentic leadership and managing difference. Steve Moore, CEO of a local health board shared his leadership journey, and introspection of self, using Myers Briggs Type Indicator. The students valued the stories of inspirational leadership journeys 'from the bottom to the top'.
We held our third and final day on the 3rd July 2019. A day looking at leadership values, a Q&A panel with distinguished guests from Social Services, WAST, Health Education and Improvement Wales, nursing Officers and #150leaders. We were fortunate to be able to invite Sarah Tobin from Plymouth University to deliver a session on 'Compassion and Leadership'. Interim feedback from 19 of the students stated that we should:
Not stop anything: 'amazing experience' 'not change anything'
Start: providing more presentations from students participants/future leaders
Allow longer time for Q&A with leaders
Getting us out of our shells/comfort zone
10 students praised the guest speakers, indicating this is something we should continue, comments included; 'Great time learning from each of the speakers', 'great programme – inspirational speakers' and 'Engaging talks especially the journeys'.
Currently we are looking to evaluate the SLA using an online survey questionnaire and to publish the findings. The students are also writing blogs of their leadership journey which will soon be published. The journey will continue for these students as informal opportunities to present their experience with the SLA are arising and we aim to provide more formal continuation events for each cohort as they progress through their courses and hold a student-led 'Leadership conference' next year.   We have also supported other universities who want to develop their own SLAs and will continue to do so.
Why did I want to do this?
Self-confidence is key to successful leadership. Self-confidence is a competency of emotional intelligence. Yet, I had to learn to build my own self-confidence as a leader once I qualified. Learning about leadership and recognising your transferable skills need to be at the beginning of any pre-registration healthcare programmes. Understanding yourself and others around you is the essence of developing effective leadership.  My personal leadership story of personal challenges, major changes and difficult situations in clinical practice has shaped my vision. When a vision is so big that the thought of achieving your provisional goals are overwhelming, simply walking on those small stepping stones creates an exciting future.
My highest gratitude and appreciation to all involved, too numerous to mention, for your passion for student leadership learning and all who believed and supported me on this journey one step at a time.
More information on the Swansea Student Leadership Academy can be found here.