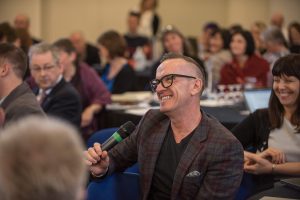 It's official – the Council's Research Month will be back for 2022.
All places will be freely accessible for staff at universities who are Council members. Events will take place online and are expected to last for one hour. Follow all the latest on #CoDHResearchMonth on Twitter.
Who is it for?
Our Research Strategy Conference will be particularly useful for research leads in nursing, midwifery and allied health faculties and those interested in strategic thinking around increasing health research capacity and fostering excellence in health research.
Keynote: Research Capacity and Capability | 1 Feb | 15.00 | Register
Professor Waljit Dhillo, Dean of the NIHR Academy, will speak to his new role at the NIHR and key priorities, as well as providing his take on what is needed for research development within nursing, midwifery and allied health professions.
Innovative Approaches to Capacity Building | 7 Feb | 15.00 | Register
Covid-19 highlighted the importance of healthcare research, however capacity building is needed for all levels of nursing, midwifery and allied health professions research. This webinar will explore what the key issues are for healthcare research capacity building and any solutions in tackling them.
Navigating Career Pathways | 17 Feb | 15.00 | Register
There are not always clear and straight forward nursing, midwifery and allied health research career pathways. This session will highlight ways of taking forward a research career and will look at ways to best support others embarking on healthcare research careers.
Leadership and Research | 22 Feb | 15.00 | Register
Dr. Thora Hafsteindottir will talk to Professor Brendan McCormack about her work developing a nursing and midwifery leadership programme. The webinar will also highlight wider leadership issues for healthcare research.
Innovative Roles in Research | 28 Feb | 15.00 | Register
Healthcare research roles or engagement with research can take many different forms. We will be joined by Professor Calvin Moorley, clinical academic Professor Annette Hand and PhD student Savannah Cole. This webinar will explore new or non-traditional research roles and the value they have.
How to book
Places at the conference is free for staff at  member institutions. You will be required to register for each event you wish to attend. As a commitment to the future researchers, we are also offering free places for students from nursing, midwifery and allied health disciplines. If you're unsure whether you are able to book, please speak to our events team.
For those coming from other organisations or non-member institutions, registration per event is £39 or £99 for access to the whole conference. Please contact our events team and we will be in touch with how to book your place.